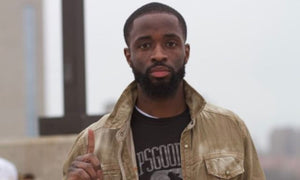 Single Review: BeFlow Proves He Deserves His Chance at "Stardom"
: Stardom
: BeFlow
Overall Grade/Rating: 8.4/10
Production: 8.5/10
Lyrics: 8.5/10
Melody: 7/10
Execution: 9/10
Subject Matter: 8/10
Replay Value: 9/10
Originality: 9/10
Skip or Spin: Spin
A rapper, lyricist, and vocalist, the Chicago native BeFlow puts all of his diverse talents to work on his single, "Stardom" that is a bold, influential artistic statement.
Immediately upon turning "Stardom" on, you are hit with a certain suspense. The dramatic opening of cackling sounds in front of the eerie echo, smoothly leads you to the hard-hitting beat drop for a perfect introduction.
The mellow feel of the track is contrasted by the depth of his impactful lyrics speaking on the issues and cultural climate affecting impoverished minorities. "Life never seemed so important, foolish kids/ Section 8 he residing, his dad doing bids" speaks to the hearts of many that relate to the struggle of growing up in urban, low-income and often crime-ridden neighborhoods.
In "Stardom," BeFlow is a showman that exhales his words with a calculated, almost suspicious confidence. He seamlessly transitions between topics like romance, his own bravado, life in general as well as societal issues which makes this track a well-balanced demonstration of his lyrical skill.
BeFlow is consistently thought-provoking. He is content to capture a mood while making "Stardom" a work of art that places high emphasis on clever lyrics and one-of-a-kind flow that captures the energy of the 90's boom bap culture. Overall, "Stardom" is more than just a song, it's a story and as soon as you get comfortable with one topic, BeFlow launches rhythmic grenades that keeps you hanging on.
The Chicago artist continues to cultivate his own lane in a hip-hop industry filled with mediocrity and duplicates and subpar lyricists. His contribution to the culture is duly noted and will almost certainly lead to his glorious chance at "Stardom."
---