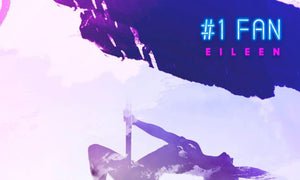 R&B Sensation Eileen Shows Us Why We'll Be Her '#1 Fan'
: #1 Fan
: Eileen
Overall Grade/Rating: 8.6/10
Production: 8.5/10
Lyrics: 8/10
Melody: 9/10
Execution: 9/10
Subject Matter: 8/10
Replay Value: 9/10
Originality: 9/10
Skip or Spin: Spin
Raw vocals, passionate lyrics, beautiful harmonies, and hypnotizing production are the first things that come to mind when you first hear '#1 Fan' from rising R&B songstress, Eileen. Nostalgia seeps in and #1 Fan makes you reminiscent of the 90s, the glory days of R&B, when the genre felt authentic and pure.
Throughout#1 Fan, Eileen explores the spectrum of vocal range and stylistic techniques that make the emotions captured in the song ring out. Her sensual yet equally punchy delivery flows smoothly over the hard-hitting drums, resounding claps and enigmatic synths that make the composition an overall success. Her vocals ooze sincere passion and yearning for her man who she professes "will be her #1 fan" once she dances for him. Eileen paints an alluring picture in the minds of the listener who relate to the story in their own lives.
#1 Fan is sexy. It's genuine and seductive vocals ("Now don't be naive/I'm twice as bad and you can have what you see) coupled with the swirls of enigmatic synths let you know that you're in for a real ride. Vocally, Eileen is as open and vulnerable. There aren't many artists in R&B that are executing at the level that Eileen is on #1 Fan. With each passing metaphor, you feel more and more drawn by the lyrics until you start to think of yourself as one of the characters in the piece.
Eileen's performance is remarkable. A breath of fresh air that advocates the beautiful nature of free love and sensuality, topped with a touch of classiness that sets it a bar above the rest. In today's climate, #1 Fan is in a league of its own. We look forward to seeing what more Eileen has in store as she currently works on a 5-song EP, titled "Redemption" slated to be released in June and produced by Eidall Music.
Also, be sure to follow her promising journey on twitter @eileen_isrnb or on facebook @eileenisrnb.
---