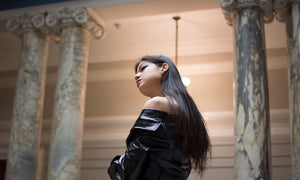 Pianist Melissa Harrison Soon To Capture The Music World By Storm
What do you get when you blend rock with a classical twist? You get Melissa Harrison, a Kent based alternative pianist who۪s carving out her own lane in the music industry.
Her unique style puts her in a league of her own particularly, in an industry devoid of true musicianship, her authenticity bleeds out and her passion rains through.
She has been able to cultivate her gift of piano since the tender age of six when her fascination with the instrument got the best of her, in her own words she says it captured my imagination.۝ Her life without the piano would be completely different. Not only is it her purpose but it is also her life long passion. The presence that music has played in her life is phenomenal it۪s shaped her mind, direction and inspirations. Being able to develop her skills at a young age has allowed her to stand out among the rest and has also given her the power to freely create without any rules or regulations.
Melissa is truly experimental artist in every sense of the word. Her music is encompassed by true creativity and originality, she states I just play whatever I actually feel and my imagination just takes over like wild fire.۝ A rare skill to be able to create genuinely phenomenal pieces strictly from your own imagination.
Melissa is needed. In a mundane industry, we need a sense of freshness. But not just freshness alone, she۪s been able to blend both the traditional classicism of piano with modern vibes. A thing that should not be taken lightly. Taking the risk of blending traditionalism with new age feels is not a risk most would be brave enough to do but is one that she۪s willing to take and it۪s paying off.
She strives to touch the souls of her listeners and provide a connection deeper than just music, she wants to change the world and make a difference. From her remarkable perspective, she believes music is a universal language that can captivate the hearts of a nation as they feel that pain or power the artist had when they were writing the piece.۝ Her journey is one that we have the utmost anticipation for and one that we believe in.
Her latest single Remember Me۪ is a dark rock Fantasia single, which takes you on a haunting and nostalgic journey of lost love. It is described as an epic piano experience_ a story based on lucid dreams.۝ Inspired by modern classical artist Ludovico Einaudi, this track dives you in with a heavy rock anthem whirlwind of energy and magnetic performance.
She۪ll also be releasing an official music video for Remember Me as well as planning a live show.
To keep up with Melissa, follow her here: https://www.instagram.com/melissaharrisonofficial_/
---