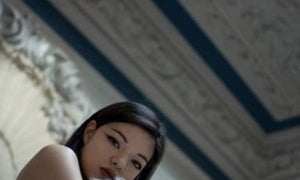 Melissa Harrison, The Pianist Turning Classical Music Into Something We've Never Heard Before
Edge, newness, pizzazz are all words to describe how Melissa Harrison transforms the classical piano into a force of beauty and vivacity in this music world that desperately needs it.
In a music industry, that lacks artistic integrity, skill and musicianship, Harrison is a breath of fresh air. Her stage aura is one that captivates and puts you in a stupor as she strikes each key and plays each chord with a confidence that mesmerizes.
She illuminates on camera, playing with dramatic flair, sparking viewers interest while tempting them to learn: Just who is this extraordinary pianist?
It won't be long before Melissa Harrison makes the mainstream remember just how important classical piano is to the soul of music. She's providing a new pulse to an art that deserves its' just due while she, in her own words, "slays the piano."
Combining energetic performance with raw talent, Melissa Harrison is paving the way as an influential musician and establishing a growing classical/contemporary niche in the music industry. As a new artist, Melissa Harrison continues to captivate new listeners with her fierce passion, and unique way of revolutionizing the musical language of classical music, making it more appealing to modern audiences. In her debut release this May, she is covering the piece A Thousand Years۪ by Cristina Perri in a classical/pop style, which truly lets her true colors and personality flourish into her music.
I Am The Industry caught up with Melissa to get a personal perspective and to hear what excitement is next:
Who are your influences?
My main influences I would say are Ludovico Einaudi and Tokio Myers. Myers really inspired me as artist from young, showing how music has no limitation or box, and that classical music is still relevant, embracing both old and new styles.
Describe your musical style.
I discovered the piano when I was 5 years old. It instantly captivated my imagination. I was classically trained but as I developed my skills, I soon found a strong desire to make classical music more modern and intriguing for all audiences by combining it with pop/rock. I have another cover song release, 'Video Games' by Lana Del Rey, which has a fierce pop/ rock edge.
Describe your musical styles.
My music style is mainly pop/classical. I plan to release some other cover songs and some original work soon, which has a much darker edge. My piece 'Remember Me' has a gothic, rock, classical vibe whereas 'A Thousand Years' has a more upbeat and lighter vibe. I look forward to embracing both sides of myself as an artist with my audience.
Tell us about any current music projects you're working on.
As a new-age, classical pianist, I have been in collaboration with different artists, singer-songwriters and rappers and also learning how to connect with modern audiences and embrace my versatility. I also have been writing a film piece for 'Don't Blame Jack,' which will be out this October. I have a poignant and nostalgic classically-driven piece called 'Lonely Hearts Club in the style of Hanz Zimmer but for now I am very excited to be releasing my debut track 'A Thousand Years' set for release the 26th of May this year.
We look forward to what ferocity Melissa Harrison will bring this upcoming year to the music industry. She is headed in the direction of greatness! Follow her journey on Instagram, http://melissaharrisonofficial_!
---