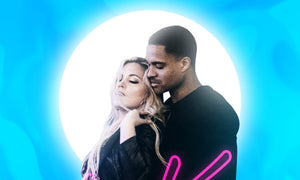 Cooper Phillip, The Rising Soul/Pop Songstress Who Keeps It Anything But "Low Key"
Cooper Phillip, the Russian born, Los Angeles based singer has been consistently captivating the music world for the past few years. Her meteoric rise in popularity and notoriety is astonishing and yet is so deserved. Standing in a league of her own, the singer pours sultry, soulful vocals on top of pop, infectious beats that hypnotizes her listeners and keeps them wanting more.
"Low Key" her latest release is quite frankly a 'must-hear.' The production on the track is refreshing - featuring a blend of electronic dance drums and an urban vibe complete with a compelling kick drum that pushes the song forward and keeps our ears avidly tuned in. "Low Key" is a merge of hard pop electronics with a touch of R&B giving it it's own unique feel. Cooper's vocal delivery is as fierce as it always is and every lyrics is full of conviction that makes us believe every word she sings.
Cooper has recruited some heavy-hitters for this release. The music video for "Low Key" is set to release in July and features a celebrity actor who has yet to be named. The true excitement is that we get to see Cooper in rare form as she will be dancing in the video and performing choreography by the renowned, G Madison, who is a choreographer for Mariah Carey.
Aside from music, Cooper has delved into other realm of creativity. As the consummate singer and professional she is, she has expanded her talents and has begun teaching master classes internationally, which features her original breathing technique, called Biophinics. In less than a year and close to one thousand students later, she has not only helped other singers but also has helped those suffering from conditions like asthma and stuttering to experience 100% improvement.
Cooper Phillip continues to build a phenomenal brand and prove that her talent is wholly undeniable. She's written an album full of material and will be giving us a new release every month, she never stops working! Be sure to listen to "Low Key" and check out the video when it is released. We look forward to the spectacular endeavors Cooper continues to gift us!
Follow her journey on Instagram, @cooperphillip.
---