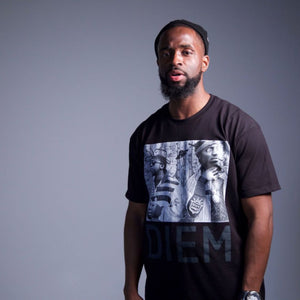 BeFlow's 'Free Press' Find It's Own Spot In Hip-Hop Royalty
[Song]: Free Press
[Artist]: BeFlow
Overall Grade/Rating: 9/10
Production: 10/10
Lyrics: 9.7/10
Melody: 8/10
Execution: 9/10
Subject Matter: 8/10
Replay Value: 9/10
Originality: 9/10
Skip or Spin: Spin
The prolific Chicago rapper's recent project features some of his heaviest hard-hitting production, sly wit, and clever lyricism to date. 
Free Press makes it's entrance with pure grandiose. From the muttered intro that leaves listeners in anticipation to the monumental beat drop and drum rolls, we're put on notice that this track belongs in the vault of hip-hop's elite.
There's a spirit of renaissance that hollows over the single, a type of proclamation of BeFlow's lyrical ability that shows his fearlessness and brilliance like never before. His subtle vocal changes and inflections show him embracing the aspects of his vocal skills that are uniquely performed on the song. 
Lines like "ask if they need real songs, they'll need more me" and "I will fall ever" demonstrates a level of confidence and self-approval all the while riding the beat effortlessly. On this track, we see BeFlow clearly marking his own territory and stamping out his own lane. 
Perhaps the main gift of the song is captured in the meaning of the song's title, "Free Press for excuses given" - a bold declaration to the listeners.
The second verse takes on it's own feel -- replete with choppy lyrics that adds to the aesthetic alongside a raunchy tone -- a technique that's used by only the most prolific lyricists. BeFlow touches on a number of serious elements of society all the while staying relatable. 
He remarks on topics that cover a wide spectrum from the "movement of feminists" to the "gunned niggas with innocence." "Free Press" makes a statement, line for line, no empty fillers, it's deep-rooted but still explores the experience of youth in today's time bringing up things like 'mental health' as well as the use of witty sports analogies, "this is how you market a star, ask Lavar'
"Free Press" is a signature timeless piece from BeFlow. Weighty material coupled with prodigious production. A moment of arrival.
Listen here:
---